Celebrating 7 Years of Girls Football at Clonee United !⚽❤🗓🎆🏅🏆
The 7th of October 2012 was a momentous day for Clonee United and Girls football in Dublin 15 as their first competitive League fixture was played against Shelbourne away at Cromcastle Road , a 10 am kick off in the Dublin Metropolitan Girls League .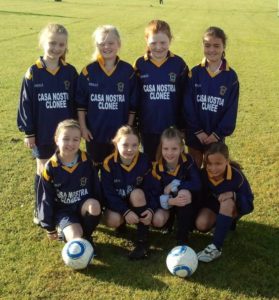 Back row left to right
Aoife Byrne , Aisling Desmond , Kate -Rose Twomey , Clara Castejon
Front row
Heather Sykes , Laura Fitzpatrick , Lucy Delaney, Sophie Monaghan
The Club had been contacted about starting a girls team by FAI Regional Officer Sharon Boyle who was keen to promote Girls Football in the area and had run a programme in the Local School .
This coincided with the availability of 2 of Clonee United's most experienced coaches John Paul Hendrick who joined Clonee after Coaching the Home Farm Academy upto U9s and John Bassi who was Chairman of Casta Celtic when they merged with Littlepacers FC in 2006 to form today's Club Clonee United . Their team had split after much Success winning League and Cup doubles along the way from U11 to U14 age groups and it was agreed the Girls team would be formed and managed by John and Paul with the help of Martha Dowling Gavigan .
Leaflets were printed , schools were contacted , posters were hung and Martha utilised her Social Media skills to advertise for players for the new team and a training session was organised for Littlepace Green . On that first night when a handful of Girls turned up for training mainly from Mary Mother of Hope School and John and Paul suddenly realized that coaching Girls was a whole new ball game, I don't think anyone could envisage how successful the Girls section of the Club would become , Even I suspect the delighted Mum's and especially Dad's who were delighted their daughters had chosen Football over numerous other hobbies and sports. Starting with one team of 8 players in 2012 that rapidly became 2 teams as word spread around the area of the fun the girls were having with Martha and the 2 boys , the dream management team had to split to take a team each by early 2013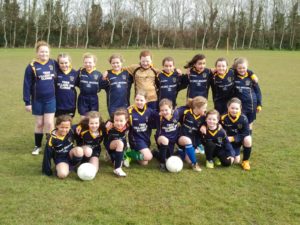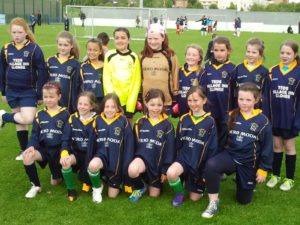 Indoor Futsal tournaments were organised in the winter and Blitzs and League games were played on the pitch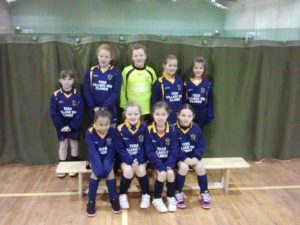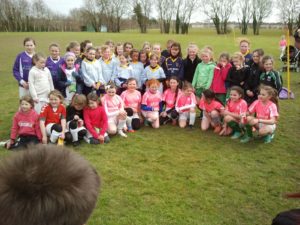 Off the Pitch there were Discos organised by Martha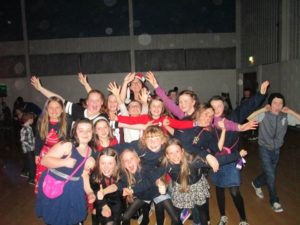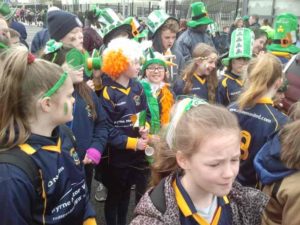 And Trips to International games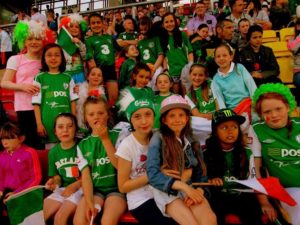 Back on the pitch all the Coaching and long hours Put in by John , Paul and the girls were starting pay dividends and in the 2014/15 season the 2 original teams went on to win their respective U12 MGL Leagues with exciting finishes to the season giving the club a League Double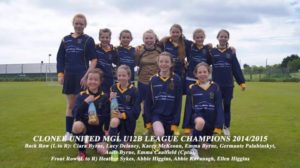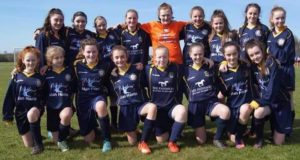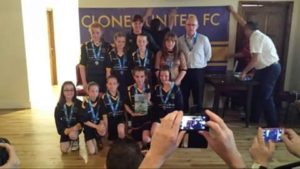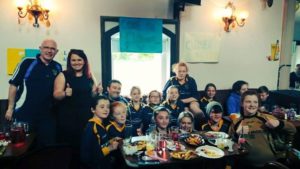 Following on from the success of the 2013/14 season when the newly formed U10s team managed by Julie O'Toole held off Shelbourne to win the MGL Cup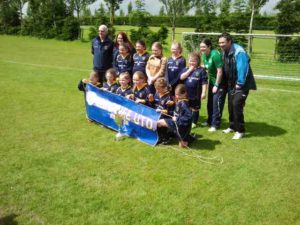 The Club has gone on to win numerous Silverware too many to mention but it's not all about winning and have girls included in Several MGL squads and FAI Emerging talent teams , with Lucy Delaney from the original team the first Clonee player to compete in the Gaynor cup on the MGL Squad in the 2016/17 season. This year Clonee have 8 teams represented at U9 to U17 age groups with over 100 girls registered with the Club and 4 of the original team that played that first game in 2012 Aisling Desmond , Lucy Delaney, Heather Sykes and Kate- Rose Twomey still playing with the U17's . The Academy for younger girls and boys is on every Saturday morning in the Ongar Community Centre all weather pitches at 10am .
The Club now play their home games at Damastown pitches and their move there in recent years has been very successful allowing for more games and having changing rooms, toilet facilities and the Sideline Cafe a credit to all involved in the Club . A club run by volunteers made up of the Committee, Managers and Coerver trained Coaches , too many to mention of their great efforts and sacrifices to facilitate the playing of the game , well done all !
So if your daughter or son yes there is an equally successful Boys section , would like to try out Football and get out and have some fun , meet new people , make friends and get some exercise come and join the Clonee United Family where parents can have nearly as much fun as the players , with recent Girls trips to Stoke for a Premier League Game and coaching and Last years trip to Barcelona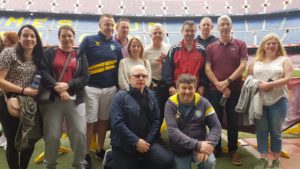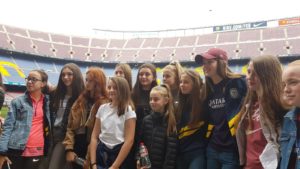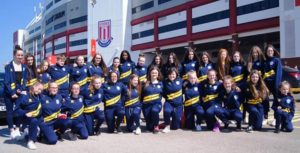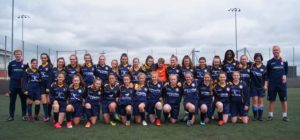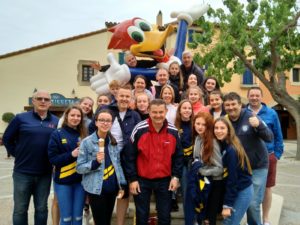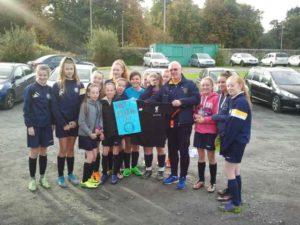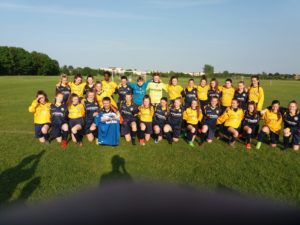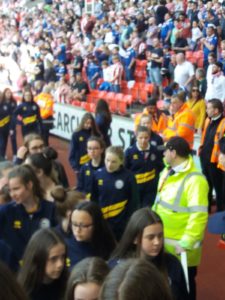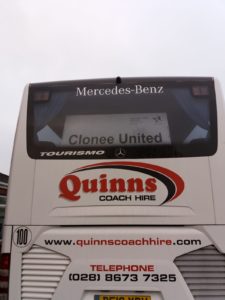 As for John and Paul they haven't changed a bit !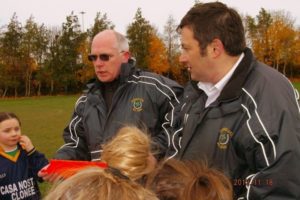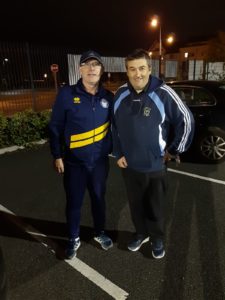 Still out Giving every spare minute to Clonee United you must have very understanding partners 😇 ! Lads you really are true Legends in your own lifetimes ! Thanks for so many memories and hopefully many more to come
COYGIB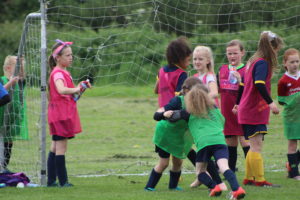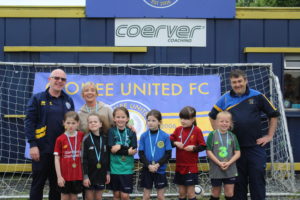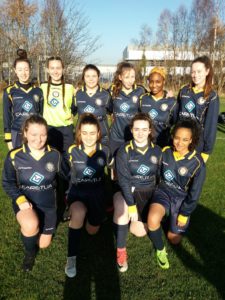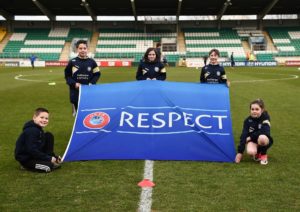 Contact Club Secretary Matt McGoldrick for more details 0876225402 or John Bassi 0860837137 or visit cloneeunited.com