Clonee United continue to fly the flag for Girls football in Dublin 15.
Clonee United closed out their 2017/18 Metropolitan Girls League (MGL) campaign on an otherwise successful season with two relatively low-key Cup-Final defeats for both their U11 and U12 Premier sides.
Despite these defeats Clonee United continue to enjoy success both on and off the pitch, the U13's side captured the MGL U13A League loosing just one game, the U11 Premier side who suffered the Cup-final pain of a penalty shoot-out loss to Kilnamanagh AFC in the Irish Rail Cup Final, dusted themselves off just a few days later, to consolidate R/up spot in the MGL U11 Premier league ahead of Shelbourne, the U12 Premier (North) finished R/up in the DB Sport Cup and pushed all the way to finish in the top-three in the U12 Premier North league, the U12 Premier (South) reached the U12 MGL Cup Semi-final, and the U15's completed a 30-game campaign to finish R/up in the MGL U15A leagues.
Off the pitch the Club embarked on their first overseas trip for the Girls, 32 players along with 18 Parents and Coaches form the two U15 Teams enjoyed a three-day trip to Stoke City over the May bank-holiday weekend, during the three days the Girls had the opportunity to train with Stoke City coaches and be "Flag Bearers" at a Premier League game at the Bet365 Stadium between Stoke City V's Crystal Palace, before visiting Alton Towers on their final day.
Having completed their 6th season in the Metropolitan Girls League (MGL), Clonee United continue to grow, develop and encourage female participation in sport providing all Girl football from U10's through to U18's, female participation is also encouraged for younger Girls too in their Saturday morning Academy for Boys and Girls aged between 5 and 8 years. Female involvement is evident on the Coaching side too, coaches of both U12 Premier sides are female, while members of their U15's and U18's provide coaching to the Boys and Girls at the Saturday morning Academy.
Providing the opportunity, encouragement and facilities, often cited as some of the main reasons for the lack of female involvement in sport, has proven the catalyst for the growth of Girls football in Clonee United, form its early beginnings in 2012 the Club now provides, training and match day facilities (dressing rooms and toilets etc) at their home pitch's in Damastown, for over 100 Girls from U10's to U18 years.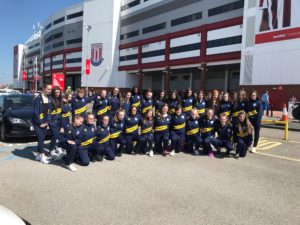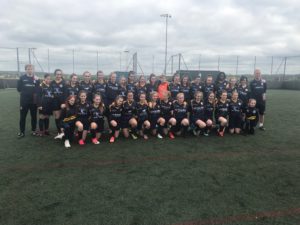 Girls from Clonee Utd enjoy a trip to the Bet365 Stadium to see Stock City V's Crystal Palace