Rising Clonee United Star Breaks Her Ankle!

October 22, 2017

10 years ago Clonee United won their first league title

October 21, 2017

Clonee friendly 25 years ago

October 21, 2017

First Day At Clonee United Academy

October 14, 2017

M3 Mulhuddart Services Token Winners

October 11, 2017

Clonee United Academy

October 9, 2017

SFAI Cup News

October 9, 2017

Clonee United Girls Team are 5 years old!

October 7, 2017

Coerver Academy Offer

October 6, 2017

Mid-Term Coerver Coaching Camp to be held in Damastown

October 5, 2017

We Did It!!

October 5, 2017

Academy Success

November 5, 2014

New players wanted – Clonee under 14 boys premier NDSL

November 5, 2014

Clubhouse facelift

October 13, 2014

Affiliate partnership with Coerver® Coaching Leinster

September 3, 2014
Sport NEWS
Latest News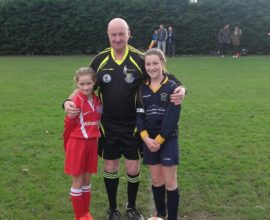 Up and coming rising star, Ava Casey, broke her ankle on Friday evening at the trials for the MGL. She has played a key role in her team, U11 White, and their recent success. Ava was captain at their last (…)
Our Partners
The Coerver® Partner Club programme provides specialist support for clubs from Grassroots to Professional level. Four key components are covered, Technical Coaching, Coach Education, Session Planning and On-line Learning, all aimed at giving your club "The Skillful Edge".
Testimonials
Stuart Hayden - Coerver®
Coerver Coaching Leinster has recently formed a club partnership with Clonee United to provide professional coaching to all players and coaches within Clonee United, the fastest growing club in Dublin 15.
Coerver® Coaching is endorsed and used by the world's greatest managers, coaches, clubs and federations such as Spain, Germany, Holland & Japan to name a few and club teams such as Real Madrid, Benfica, Manchester United, Arsenal & Bayern Munich. There are countless examples of playing the Coerver way but fundamentally it is giving the player the confidence to be the best they can be technically so that they can play as required tactically.
The contract between Clonee United and Coerver Coaching Leinster will be a great help to the club in continuing their rapid development and growth.
What a very progressive Club
Clonee Utd are , doing
everything in such a
Professional manner ,
Always an absolute
pleasure to mark their pitches ...
Great example ... ⚽⚽
Gerry keogh
Clonee United
We are delighted to welcome Clonee Utd to the Coerver family, this is a partnership that opens up not only the Coerver curriculum to Clonee but a